Solaris Online Course
Solaris Certification Training Course Covers the main sections of this Course. Let me list them Basic UNIX Command, open boot interface, Open boot parameters, adding run-control scripts, the halt/power off commands, the reboot command, the SMF Environment, configuring a service with svccgfg, Partitions, and multiple disks and configuration clusters. Our Solaris Certification Training Course offers real-time projects.
Our trainers are real-time industry Experts and having more than 10 years of experience. They are certified themselves and work for top companies. Our Course is designed to crack the certification Exams like CX-310-200, Solaris System Administrator Certified Professional and CX-310-202. Solaris System Administrator at an entry-level gets a salary of Rs. 8, 50,000 and at an experienced professional earns Rs. 13, 00,000 and more. Our Solaris Certification Course ensures all our students to achieve their dream jobs.
Answer 3 Simple Questions
Get upto 30%* Discount in all courses. Limited Offer. T&c Apply.
Register now
Solaris Online Training Syllabus
Solaris 10 System Administration – Part I
Introduction
Introduction to UNIX
What is Kernel – Shell – File System – Client/Server
Hardware Requirements – Sparc vs Intel
Basic Unix commands
Boot procedures
Openboot interface
Openboot parameters
Device names and aliases
Boot Options
Booting with GRUB
Startup and shutdown procedures
Boot Phases
init
System run levels
inittab file
Run control scripts
Adding a run control script
Disabling a run control script
The shutdown command
The init command
The halt/poweroff commands
The reboot command
The stop-a command
Service management facility
Basic Features
The SMF Environment
SMF and Booting
SMF Environmental Structures
Service States
Managing Services
Listing Services with svcs and inetadm
Managing the State of a Service with svcadm
Configuring a Service with svccfg
Managing the State of inetd Network Services with inetadm
Installing the solaris operating system
Installation requirements
Partitions and multiple disks
Packages, Clusters and Groups
Configuration cluster
Definition of Installation methods
Interactive Installation Process
Software package administration
Documentation Packages
Configuration clusters
Displaying current software package information
Checking the installation of a package
Adding software packages
Removing software packages
Package logfiles & Troubleshooting tips
Managing processes
Introduction to Process Management
The ps command
The prstat command
The kill command
Using the cron processes
Creating crontab entries
Crontab command options
The at command
Maintenance of patches
Maintenance of patches and patch clusters
Verification of currently installed patches
Installing a patch on the system
Removing a patch from the system
Patch logfiles
Disk management
Displaying disk information
Partitions/Slices
Naming conventions
Physical device names
Instance name
Logical device names
Block and character devices
Configuring new disk devices
Partitioning the disk with the format command and Solaris
Management Console
Making a new partition
File system management
Disk based file systems
Main root sub-directories
Pseudo file systems
Components of a ufs file system
Boot block
Superblocks
Inodes
Data disk blocks
Ulimit parameter
File types
Symbolic and Hard links
Creating file systems
The newfs command
The mount command
The umount command
The vfstab file
The mnttab file
Filesystem checking
Determining if a file system needs checking
Running fsck manually
The lost+found directories
Automounting CDs and floppies (Volume Management)
Checking free disk space
The df command
The quot command
The du command
Freeing disk space
Freeing up disk space with compression utilities
Rotating files with logadm
ZFS
ZFS – A Basic Description
Main Features
ZFS Tools
Managing ZFS Pools with zpool
Pool Configuration Features
Creating and Deleting ('Destroying Pools')
Managing File Systems with ZFS
Creating and Destroying a File System
File security and acls
ACLs (Access Control Lists)
The setfacl command
The getfacl command
The ACL mask
User management
User accounts
Files used in creating a user – the passwd, group and shadow files
Adding a user
Changing user details
Deleting a user
User group maintenance
Password administration
Local Login control
Remote Login control
Login logs
The wall command
The message of the day
Controlling the amount of disk space accessible to users using quotas
Backup and recovery
Backup overview
Backup and restore utilities overview
Tape device names
The mt utility – retentsion, rewind, space forward or backward and status
The ufsdump and ufsrestore utilities
ufs snapshots
Managing the print environment
The print service
Print service files
Printer configuration with lpadmin
Line printer commands – lpshut, lpsched, accept, reject, enable, disable, lpmove lpusers, lpstat, lp, cancel
Solaris 10 System Administration – Part II
Naming services
DNS Server and Client Setup
NIS Servers and Clients
Setting up NIS Servers and Clients
NIS+ Overview
LDAP Overview and Setting up an LDAP Client
The Name Service Switch Configuration Files
Name Service Cache Daemon
NFS/CACHE FS
Network File System (NFS)
NFS Server
NFS Client
/etc/dfs/dfstab File
NFS Client Configuration
Troubleshooting NFS
Cache File System (Cachefs)
Creating a Cache File System
Adding/Removing Cache File System
NFS Logging – user access
Automount
Automount Maps
Registering Changes for Automount
automount -v
Solaris Volume Manager (SVM)
RAID
Volume Management Operations
metadevices
State Database Replicas
SVM Commands and Files
Creating State Database Replicas
Creating a Disk Concatenation
Creating a Concatenation of two disk slices
Creating and Managing Mirrors
Creating File Systems on Volumes
Deleting a Metadevice
Dynamically Growing Existing File Systems
Managing swap space
Configuring Swap Space
Adding a Swap File on an Existing File System
Disabling Swap Space
Jumpstart
Automatic Installation
Principles of JumpStart
Server Setup for JumpStart
Configuring NIS to Support JumpStart
Configuring Non NIS Server for JumpStart
Rules File
Class File
Check Utility
Setting up DHCP for Intel clients
Jumpstart troubleshooting
Live upgrade overview
Live Upgrade description
Basic procedures
lucreate and luupdate commands
lucativate an lustatus commands
Live Upgrade Example
Dump file configuration
Dump File Definition
System Crash Dumps
Core Dump Configuration
Syslog
syslog Configuration
The M4 Utility
Editing the syslog.conf File
Logging Telnet, FTP and other Networking Daemon
Testing syslogd Logging
ROLE-BASED ACCESS CONTROL (RBAC)
Traditional Unix Security vs RBAC
The RBAC Security Model
Configuring RBAC Examples
Zones
Zone Configuration Settings and Characteristics
Creating Zones
Managing the Zone State
Zone System Processes
Looking for Master your Skills? Enroll Now on Triple Course Offer & Start Learning at 24,999!
Explore Now
Upcoming Batch Schedule for Solaris Online Training
Besant Technologies provides flexible timings to all our students. Here is the Solaris Online Training Schedule in our branches. If this schedule doesn't match please let us know. We will try to arrange appropriate timings based on your flexible timings.
04-12-2023

Mon (Mon - Fri)Weekdays Batch 08:00 AM (IST)(Class 1Hr - 1:30Hrs) / Per Session Get Fees

07-12-2023

Thu (Mon - Fri)Weekdays Batch 08:00 AM (IST)(Class 1Hr - 1:30Hrs) / Per Session Get Fees

09-12-2023

Sat (Sat - Sun)Weekend Batch 11:00 AM (IST) (Class 3Hrs) / Per Session Get Fees

Can't find a batch you were looking for?
Corporate Training
If you want to give the Trending technology experience to your esteemed employees, we are here to help you!
Trainer Profile of Solaris Online Training
Our Trainers provide complete freedom to the students, to explore the subject and learn based on real-time examples. Our trainers help the candidates in completing their projects and even prepare them for interview questions and answers. Candidates are free to ask any questions at any time.
More than 7+ Years of Experience.
Trained more than 2000+ students in a year.
Strong Theoretical & Practical Knowledge.
Certified Professionals with High Grade.
Well connected with Hiring HRs in multinational companies.
Expert level Subject Knowledge and fully up-to-date on real-world industry applications.
Trainers have Experienced on multiple real-time projects in their Industries.
Our Trainers are working in multinational companies such as CTS, TCS, HCL Technologies, ZOHO, Birlasoft, IBM, Microsoft, HP, Scope, Philips Technologies etc
Build your resume to the latest trend, and get a chance to know our Tie-Up Companies
Placed Student's list
Solaris Exams & Certification
Besant Technologies Certification is Accredited by all major Global Companies around the world. We provide after completion of the theoretical and practical sessions to fresher's as well as corporate trainees.
Our certification at Besant Technologies is accredited worldwide. It increases the value of your resume and you can attain leading job posts with the help of this certification in leading MNC's of the world. The certification is only provided after successful completion of our training and practical based projects.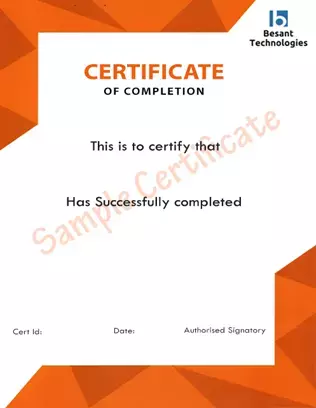 Group Discount
If you have Three or more people in your training we will be delighted to offer you a group discount.
Key Features of Solaris Online Training
30+ Hours Course Duration
100% Job Oriented Training
Industry Expert Faculties
Free Demo Class Available
Completed 800+ Batches
Certification Guidance
Training Courses Reviews
I would like to highlight a few points about my association with Besant Technologies. The faculty members out here are super supportive. They make you understand a concept till they are convinced you have gotten a good grip over it. The second upside is definitely the amount of friendliness in their approach. I and my fellow mates always felt welcome whenever we had doubts. Thirdly, Besant offers extra support to students with a weaker understanding of the field of IT.
Siva Kumar
When I joined Besant Technologies, I didn't really expect a lot from it, to be extremely honest. But as time went by, I realised I got from Besant Technologies exactly what I wanted- a healthy environment for learning. Cordial teachers and their valuable lectures make understanding things so much easy. I thank Besant for having been so supportive throughout the course.
Daniel
Frequently Asked Questions
Besant Technologies offers 250+ IT training courses in more than 20+ branches all over India with 10+ years of Experienced Expert level Trainers.
Fully hands-on training
30+ hours course duration
Industry expert faculties
Completed 1500+ batches
100% job oriented training
Certification guidance
Own course materials
Resume editing
Interview preparation
Affordable fees structure
Besant Technologies is the Legend in offering placement to the students. Please visit our Placed Students List on our website.
More than 2000+ students placed in last year.
We have a dedicated placement portal which caters to the needs of the students during placements.
Besant Technologies conducts development sessions including mock interviews, presentation skills to prepare students to face a challenging interview situation with ease.
92% percent placement record
1000+ interviews organized
Our trainers are more than 10+ years of experience in course relavent technologies.
Trainers are expert level and fully up-to-date in the subjects they teach because they continue to spend time working on real-world industry applications.
Trainers have experienced on multiple real-time projects in their industries.
Are working professionals working in multinational companies such as CTS, TCS, HCL Technologies, ZOHO, Birlasoft, IBM, Microsoft, HP, Scope, Philips Technologies, etc…
Trained more than 2000+ students in a year.
Strong theoretical & practical knowledge.
Are certified professionals with high grade.
Are well connected with hiring HRs in multinational companies.
No worries. Besant technologies assure that no one misses single lectures topics. We will reschedule the classes as per your convenience within the stipulated course duration with all such possibilities. If required you can even attend that topic with any other batches.
Besant Technologies provides many suitable modes of training to the students like
Classroom training
One to One training
Fast track training
Live Instructor LED Online training
Customized training
You will receive Besant Technologies globally recognized course completion certification.
Yes, Besant Technologies provides group discounts for its training programs. To get more details, visit our website and contact our support team via Call, Email, Live Chat option or drop a Quick Enquiry. Depending on the group size, we offer discounts as per the terms and conditions.
We accept all major kinds of payment options. Cash, Card (Master, Visa, and Maestro, etc), Net Banking and etc.
Please Contact our course advisor+91-9677 266 800. Or you can share your queries through info@besanttechnologies.com