About Microsoft Excel Certification Course in Hindi
Excel is used in the CRM department, sales operations, HR operations, and Marketing operations. Data kept with Excel is safe with a password and VB programming. Excel has a solution for simple mathematical operations and complex mathematical operations. MS Excel complete tutorial for beginners in Hindi train the learners to save time and use its features and tools efficiently.
As the best Excel Training Institute, we engage the learners with industry best trainers who take the classes from the basic level. The trainers transform their experience into professional skills to train the students. Corporate style training and live support are the reasons behind the success stories of our students.
एक्सेल का उपयोग सीआरएम विभाग, बिक्री संचालन, एचआर संचालन और विपणन संचालन में किया जाता है। एक्सेल के साथ रखा गया डेटा पासवर्ड और वीबी प्रोग्रामिंग के साथ सुरक्षित है। एक्सेल में सरल गणितीय संचालन और जटिल गणितीय संचालन के लिए एक समाधान है। हिंदी में शुरुआती के लिए एमएस एक्सेल पूरा ट्यूटोरियल शिक्षार्थियों को समय बचाने और कुशलता से इसकी विशेषताओं और उपकरणों का उपयोग करने के लिए प्रशिक्षित करता है।
सर्वश्रेष्ठ एक्सेल ट्रेनिंग इंस्टीट्यूट के रूप में, हम उद्योग के सर्वश्रेष्ठ प्रशिक्षकों के साथ शिक्षार्थियों को संलग्न करते हैं जो बुनियादी स्तर से कक्षाएं लेते हैं। प्रशिक्षक छात्रों को प्रशिक्षित करने के लिए अपने अनुभव को पेशेवर कौशल में बदलते हैं। कॉर्पोरेट शैली प्रशिक्षण और लाइव समर्थन हमारे छात्रों की सफलता की कहानियों के पीछे कारण हैं।
Learn Best MS Excel Course in Hindi
In this MS Excel Training in Hindi explains the multiple benefits of Excel-like using references to use formulas without rewriting it, freezing columns and panes in Excel in case of a large number of data, and also compare excel with other Microsoft products. Trainers understand the demand to excel and train the learners for job roles like secretary, office administrator, and accountant and business development officer. The top skills which are tested during interviews are data filters, cell formatting, data validation, workbook, pivot tables, management of page layout, and usage of the chart and its analysis.
Learn Basic Excel for beginners in Hindi from Besant technologies to be the top performer. As skills are the basic need for salary hike and promotion gaining the skills will make the learner as a top performer. We are offering this MS Excel in Hindi full tutorial beginner's course as Hindi speakers are highly interested in accountant job and administration jobs.
We get inquiries predominantly from Hindi speakers for Basic to advanced excel course. Customized projects and customized assessment tests are given to the learners during Excel full course in Hindi to show the skills as the proof to pursue jobs associated with Excel skills.
इस एमएस एक्सेल ट्रेनिंग इन हिंदी में एक्सेल के कई फायदे बताए गए हैं, जैसे कि इसे दोबारा लिखे बिना फॉर्मूलों का उपयोग करने के लिए संदर्भ का उपयोग करना, बड़ी संख्या में डेटा के मामले में एक्सेल में कॉलम और पैन को फ्रीज करना और अन्य Microsoft उत्पादों के साथ एक्सेल की तुलना करना। प्रशिक्षक सचिव, कार्यालय प्रशासक, और लेखाकार और व्यवसाय विकास अधिकारी जैसी नौकरी की भूमिकाओं के लिए शिक्षार्थियों को उत्कृष्टता देने और प्रशिक्षित करने की मांग को समझते हैं। साक्षात्कार के दौरान जिन शीर्ष कौशल का परीक्षण किया जाता है, वे हैं डेटा फ़िल्टर, सेल फ़ॉर्मेटिंग, डेटा सत्यापन, कार्यपुस्तिका, पिवट टेबल, पेज लेआउट का प्रबंधन और चार्ट का उपयोग और इसके विश्लेषण।
बेसेंट तकनीकों से हिंदी में शुरुआती के लिए बेसिक एक्सेल सीखें जो सबसे अच्छा प्रदर्शन करने वाला हो। जैसे-जैसे कौशल वेतन वृद्धि और पदोन्नति के लिए बुनियादी जरूरत है, कौशल प्राप्त करने वाले शिक्षार्थी को एक शीर्ष कलाकार के रूप में स्थापित करेंगे। हम इस एमएस एक्सेल को हिंदी में पूर्ण ट्यूटोरियल शुरुआती पाठ्यक्रम के रूप में पेश कर रहे हैं, क्योंकि हिंदी बोलने वाले लेखाकार की नौकरी और प्रशासन की नौकरियों में अत्यधिक रुचि रखते हैं।
बेसिक से एडवांस्ड एक्सेल कोर्स के लिए हमें मुख्य रूप से हिंदी बोलने वालों से पूछताछ मिलती है। एक्सेल कौशल से जुड़ी नौकरियों को आगे बढ़ाने के लिए कौशल के प्रमाण के रूप में हिंदी में एक्सेल फुल कोर्स के दौरान शिक्षार्थियों को अनुकूलित परियोजनाएं और अनुकूलित मूल्यांकन परीक्षण दिए जाते हैं।
Answer 3 Simple Questions
Get upto 30%* Discount in all courses. Limited Offer. T&c Apply.
Register now
Syllabus of Microsoft Excel Course in Hindi
Basics of Excel
Pivot Table
LOOKUP Functions
TEXT Functions
LOGICAL Functions
STATISTICAL Functions
DATE & TIME Functions
FINANCIAL Functions
INFORMATION Functions
MATH & TRIG Functions
What-if Analysis
Visualization
Conditional Formatting
Charts (Basics & Advanced)
Static Dashboard
Dynamic Dashboard (in different ways)
Looking for Master your Skills? Enroll Now on Triple Course Offer & Start Learning at 24,999!
Explore Now
Upcoming Batch Schedule for Microsoft Excel Training in Chennai
Besant Technologies provides flexible timings to all our students. Here are the Microsoft Excel Training in Hindi Schedule in our branches. If this schedule doesn't match please let us know. We will try to arrange appropriate timings based on your flexible timings.
09-10-2023

Mon (Mon - Fri)Weekdays Batch 08:00 AM (IST)(Class 1Hr - 1:30Hrs) / Per Session Get Fees

05-10-2023

Thu (Mon - Fri)Weekdays Batch 08:00 AM (IST)(Class 1Hr - 1:30Hrs) / Per Session Get Fees

07-10-2023

Sat (Sat - Sun)Weekend Batch 11:00 AM (IST) (Class 3Hrs) / Per Session Get Fees

Can't find a batch you were looking for?
Corporate Training
If you want to give the Trending technology experience to your esteemed employees, we are here to help you!
Trainer Profile of Microsoft Course in Hindi
My name is Akshay Kumar. I have Microsoft certification for Excel. I am a certified trainer and working as an Excel trainer for the past 10 years. I have an MBA degree from Mumbai University. I train learners about functions, dependents calculation, consolidate data, validate data, use macros, import data and export data. Learn MS Excel in Hindi from me to become an expert in using an Excel spreadsheet. I assume each student as a professional and train them to the professional level. I know the demand for Excel in different job roles and tailor the course as per the need of the student. My students are engaged with real-time projects which the management provides after the course. Trainer guidance is provided with 24/7 support to the students for the projects and interviews. Join my Basic to advance level course and get more and more opportunities for your profile.
Build your resume to the latest trend, and get a chance to know our Tie-Up Companies
Placed Student's list
Microsoft Excel Exams & Certification
Besant Technologies Certification is Accredited by all major Global Companies around the world. We provide after completion of the theoretical and practical sessions to fresher's as well as corporate trainees.
Our certification at Besant Technologies is accredited worldwide. It increases the value of your resume and you can attain leading job posts with the help of this certification in leading MNC's of the world. The certification is only provided after successful completion of our training and practical based projects.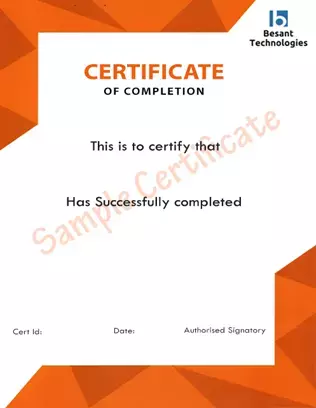 Group Discount
If you have Three or more people in your training we will be delighted to offer you a group discount.
Key Features of Excel Training in Hindi
30+ Hours Course Duration
100% Job Oriented Training
Industry Expert Faculties
Free Demo Class Available
Completed 800+ Batches
Certification Guidance
Projects of Excel Course in Hindi
Create a template for portfolio management
In this project after the MS Excel in the Hindi course, the learners will be acquainted with the different operations with data like stock details, price details, transaction cost, and cumulative cost, etc. The functionalities are created and tested with the result to make concepts like using formulas, summing, cell formatting, and data filters clear.
Training Courses Reviews
My name is Venkatesh. I have completed the Excel Course in Hindi from Besant technologies. The training helped me to know the benefits of using excel from day to day operations to the advance level administration. I got placed in an MNC company as an accountant. My trainer is a highly experienced and professionally conducted training. Thanks for the wonderful training which helped me to clear the interview. I recommend this course for beginners as it is the basic level knowledge which every professional should have. After the Excel full course in Hindi, the learners will be supported for placement and interview tips. It worked well for my education and career plan.
Venkatesh
Frequently Asked Questions
Besant Technologies offers 250+ IT training courses in more than 20+ branches all over India with 10+ years of Experienced Expert level Trainers.
Fully hands-on training
30+ hours course duration
Industry expert faculties
Completed 1500+ batches
100% job oriented training
Certification guidance
Own course materials
Resume editing
Interview preparation
Affordable fees structure
Besant Technologies is the Legend in offering placement to the students. Please visit our Placed Students List on our website.
More than 2000+ students placed in last year.
We have a dedicated placement portal which caters to the needs of the students during placements.
Besant Technologies conducts development sessions including mock interviews, presentation skills to prepare students to face a challenging interview situation with ease.
92% percent placement record
1000+ interviews organized
Our trainers are more than 10+ years of experience in course relavent technologies.
Trainers are expert level and fully up-to-date in the subjects they teach because they continue to spend time working on real-world industry applications.
Trainers have experienced on multiple real-time projects in their industries.
Are working professionals working in multinational companies such as CTS, TCS, HCL Technologies, ZOHO, Birlasoft, IBM, Microsoft, HP, Scope, Philips Technologies, etc…
Trained more than 2000+ students in a year.
Strong theoretical & practical knowledge.
Are certified professionals with high grade.
Are well connected with hiring HRs in multinational companies.
No worries. Besant technologies assure that no one misses single lectures topics. We will reschedule the classes as per your convenience within the stipulated course duration with all such possibilities. If required you can even attend that topic with any other batches.
Besant Technologies provides many suitable modes of training to the students like
Classroom training
One to One training
Fast track training
Live Instructor LED Online training
Customized training
You will receive Besant Technologies globally recognized course completion certification.
Yes, Besant Technologies provides group discounts for its training programs. To get more details, visit our website and contact our support team via Call, Email, Live Chat option or drop a Quick Enquiry. Depending on the group size, we offer discounts as per the terms and conditions.
We accept all major kinds of payment options. Cash, Card (Master, Visa, and Maestro, etc), Net Banking and etc.
Please Contact our course advisor+91-9677 266 800. Or you can share your queries through info@besanttechnologies.com