Salesforce Tutorial
If you are in search of the best Salesforce Tutorial, then you are in the right place. In this Salesforce tutorial, we are going to cover all the essential concepts that are associated with salesforce. By the end of this Salesforce tutorial, you will gain complete awareness on what is salesforce, how it works, products of salesforce, advantages, features, job roles and lot more.  But before getting into the tutorial part, we must know some other essential concepts which have led to the invention of cloud computing and Salesforce. Let's dive into the details.
On a daily basis business across the world undergoes a lot of tasks and for future reference purpose, they have to store these business interactions. The storage needs of the organizations are growing exponentially, and the traditional storage devices have failed to meet the growing demand for the storge. There was a desperate need for a high storage system, and this problem has lead to the invention of cloud computing technology. Cloud computing allows organizations to store an unlimited amount of data without maintaining any physical servers.
What is Cloud computing?
Cloud computing is a process of delivery of computers over the internet which includes servers, database, storage, software, intelligence and analytics over the internet (the cloud ). With the help of cloud computing technology you can store, manage, and process data from remote servers instead of traditional local servers or personal computers. You need to pay only for the cloud services that you use, which helps you in lowering your operating costs and helps the business in reaching the goals at a faster pace.
What is CRM?
Customer Relationship Management (CRM) is a software that helps in managing all your transactions with the existing as well as potential customers. It stores customer information such as name, address, phone number, age, etc. It also tracks the various activities of the customers, such as website visits, incoming and outgoing calls, emails, etc. CRM helps companies to stay in touch with customers, improve profitability, and streamline business processes.
What is Salesforce?
Salesforce is a Software as a Service (SaaS) CRM from salesforce.com helps organizations in managing the relationships with the customers, building apps, and integration with other systems. Salesforce is highly flexible and allows organizations in creating customized solutions.
Initially, the CRM was only meant to few business services such as sales, service, marketing but later it has expanded its services to all other segments businesses which include Human resources management, supply chain management, etc. It creates an environment where you can serve and get to know about each customer in a whole new way.
History of Salesforce
Salesforce was founded by ex-Oracle employee Marc Benioff, Parker Harries, and Frank Dominguez in March 1999. It was listed on the New York Stock Exchange in June 2004 and raised a fund amount of US$110 million. In 2014 Salesforce decided to merge all its platforms to develop a customer success platform. In 2017 Salesforce launched a Facebook Analytics tool and later in 2018, it partnered with Apple for developing better apps for business. Salesforce services are available in over 16 different languages, and holds a customer base of 82,400.
Salesforce Architecture
Salesforce is a powerful CRM tool and delivers a customized experience to its customers, partners, and employees. This platform helps in developing customized functionality and creating apps, components, custom pages, etc. Salesforce executes any task at high speed because of its architecture. Let's discuss the detail information about salesforce architecture here. The architecture of Salesforce has been divided into layers to give you a better explanation.  Let's discuss the functionalities of each layer:
Trusted multi-tenant cloud
This multi-tenant cloud helps various instances of one or more applications operate independently in a distributed environment. These cases are called tenants and are logically different from each other while physically stays on the same hardware. It's robust nature, and high-security features have made it as trusted cloud technology.
Scalable Metadata Platform
This is an essential feature of Salesforce. The metadata-driven platform made it easier for developing customizations and also helps in scaling up according to the increment of data or user instances.
Enterprise Ecosystem
The enterprise ecosystem of Salesforce is very vast because there is a large number of partners who have contributed by developing and maintaining various applications on this platform.
CRM & related functionality
Salesforce is constantly developed and updated with new features according to the changing needs of businesses. It comes with all types of CRM features and also extendable to integrate with analytics, creation of apps, etc.
APIs
Salesforce comes with a powerful suite of APIs. This allows faster development and customizes the Salesforce1 mobile App.
Must Read: What is Salesforce Workbench?
Why Salesforce? Key Benefits
Here are the key benefits of using Salesforce CRM:
It acts as a one-stop solution for all business needs like sales, marketing, partner management, service management, and community management.
As the data of your organization is stored in the cloud, your employees can access it by using the internet from any corner of the world.
It suits all types of businesses irrespective of size.
Its cost-effective model lowers your subscription cost. You need to pay for the services only you have used not more than that.
It helps in serving the customer quicker, and better thereby, we can gain customer loyalty and improve sales.
Salesforce flexible enough to integrate with third-party apps.
Improves business functionality.
Helps in the overall growth of the business
Service types in Salesforce
The salesforce services are broadly available in three different types which are IaaS, PaaS, and SaaS. Let's discuss them in detail: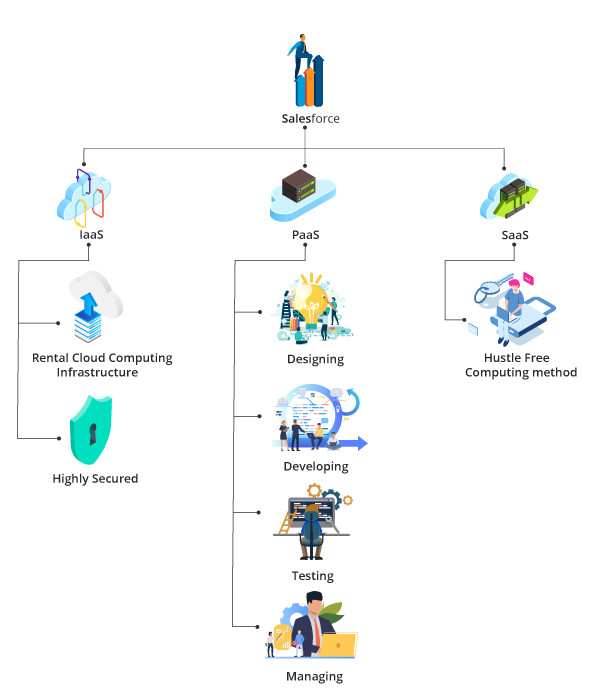 Salesforce Infrastructure as a Service (IaaS)
It is a rental cloud computing infrastructure. You are not required to install any software or hardware applications. Because your business data and applications are stored in a highly secured salesforce cloud environment.
Salesforce Platform as a Service (PaaS)
This is an on-demand environment for designing, developing, testing and managing multiple applications. It is a very simple and easy to use service because you can allow the developer's code to design, develop and deploy based on your business needs.
Salesforce Services as a Service (SaaS):
It's a hustle free computing method. A user need not to set up or download anything. All you need to do is Login and use software or manage your data across the cloud.
Click Here – To Know About Importance of Salesforce Technology
Features of Salesforce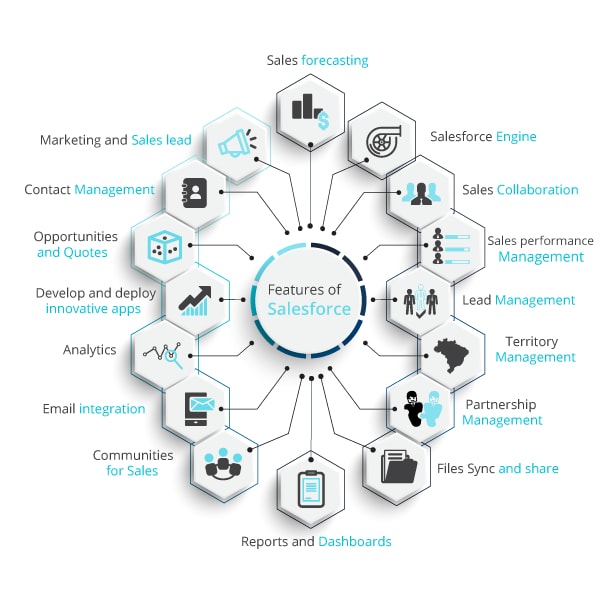 Marketing and Sales lead: This feature helps in analyzing customer engagement by tracking email activities and in converting leads into customers.
Contact Management: this feature helps the organizations in storing customer data in an organized format. It enables you to pull customer data from the database. This data includes customer's activity history, customer communications, frequent contacts.
Opportunities and Quotes: It allows the vendor to create opportunities seamlessly and to quote.
Develop and deploy innovative apps: Salesforce allows you to build customized apps according to your business needs.
Analytics: Using analytics, one can use the data to create dashboards and thereby, he can assess the performance of each business segment very quickly.
Email integration: You can integrate the email service with the Salesforce to provide the best support and assistance to your customers.
Communities for Sales: Salesforce has the largest community, using which one can connect to the customers, partners, and employees.
Salesforce Engine: This feature helps the companies in maintaining personalized contact with the customers. The marketing team can design the most effective and customized campaigns for better marketing.
Sales Collaboration: This feature allows companies to address the business customer issues associated with products or services.
Sales performance management: It allows organizations to set a goal for the sales and to measure the actual performance and also providing feedback & reward to the sales teams.
Lead Management: this feature allows you to track the lead status that is in process.
Territory Management: Using this feature, one can create a suitable sales models for every territory. Here you can also preview them before they are deployed into the market. It helps in maintaining the balance between the areas.
Partnership management: using this feature, you can build communities with the partners and acts as a place to share the objectives, goals, and activities.
Files Sync and share: This feature helps the sales team in instantaneously updating the various data and syncing them.
Reports and Dashboards: This feature gives you the complete picture of your business position and how it is performing and areas of improvement, etc.
Sales forecasting: this feature assists the sales team to forecast future sales.
Read this Blog:  Why This Year Will Be the Year of Salesforce
Salesforce Products
Salesforce has come up with various products to meet the ever-changing needs of diverse businesses. Let's discuss them here briefly.
Sales Cloud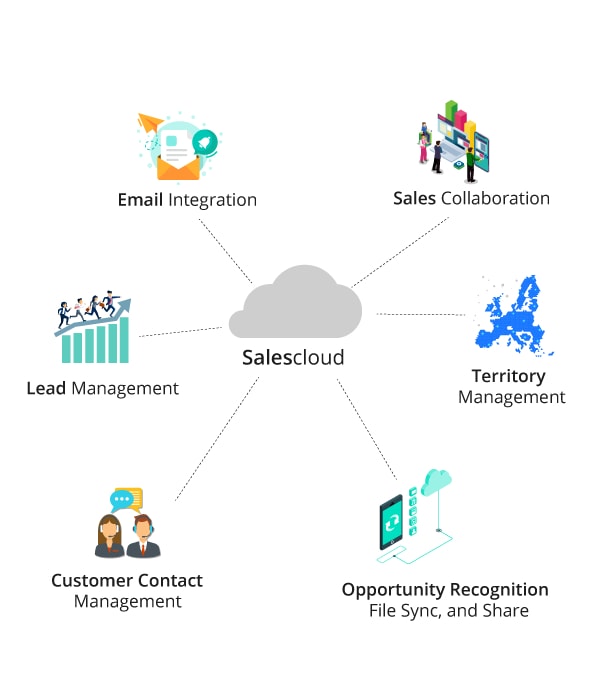 The Sales cloud gathers complete customer information on a single platform. It gives you multiple features to manage the sales of an organization in an effective way.  Sales Cloud is designed to manage the sales activities such as customer contact management, lead management, email integration, sales collaboration, territory management, opportunity recognition file sync, and share, etc. it helps you in improving the lead conversion rate and improving the revenue.
Marketing Cloud
The marketing cloud gives you complete information on marketing conditions and helps the marketing team to come up with the right marketing plans. Marketing Cloud provides you with complete marketing information and gives you immense support to take the business decisions that would help in getting positive outcomes. It helps the organizations in engaging with the customers and identifies the customers who are inactive and provides you the strategies to convert them into active ones.  It also allows you to create compelling landing pages, improving conversion rates, etc.
Service Cloud
Service cloud contains services such as knowledge base, call center, assistance for products, live conversations, etc. It helps in resolving the customer issues instantaneously and at a faster pace. The Service Cloud allows organizations to provide personalized services to their clients. Key features of the service cloud include Console for Service, Knowledgebase, Social Customer Service, Live Agent, Mobile Platform, and Service Cloud Communities. Service cloud helps in keeping the customer happy with fast and reliable service and thereby generating referrals from loyal customers.
Analytics Cloud
Analytics cloud also called Salesforce Wave Analytics. This allows the companies to visualize the data with compelling graphs and dashboards. The wave mobile apps allow users to work with the massive amounts of data and helps them develop charts, graphs, tables, and other map visualizations by using data.  The wave analytics primary motive is to complete their work using Mobiles, tabs, and specific apps for getting done their work. Which gives a complete performance of the business.
Community Cloud
Community cloud allows organizations to directly connect and maintain a relationship with the customers, partners, distributors, etc. The community could help the employees in many types of workplace communications like human resources management, troubleshooting, collaboration among geographically dispersed teams, and desk communications. Using this Salesforce Chatter CRM Management can have communication with partners and other parties.
Commerce Cloud
This will enable the organizations in providing seamless service to the customers. Commerce cloud integrated with the other customer success cloud platforms which include sales, service, market cloud, artificial intelligence platform, and Salesforce Einstein. The main motive of this commerce cloud is to provide the best experience to the customer over online and offline.
IoT cloud
To be able to sustain in this connected world your business needs the Internet of Things, IoT cloud helps you in connecting various products of your business. IoT cloud is a developed store and processes the IoT data. Salesforce IoT Cloud is powered by Thunder which powers this platform to be a highly scalable and real-time processing engine. It allows this platform to record massive amounts of data generated by devices, sensors, applications, customers, websites, and partners.
Health Cloud
Salesforce Health Cloud is a health IT CRM system that helps in providing better treatment by recording the management services and eliminating the gap between doctor and patient.   Health cloud integrates patient information from multiple sources which include electronic medical records (EMRs), wearables and medical devices. With the help of private communities, patients can access the medical plans, consult doctors and can solve their doubts visits to save time.
Other services offered by Salesforce
Chatter
Chatter is an enterprise collaboration tool from salesforce and works similarly to an Intranet in an organization. This acts as a Private directory of an organization and each individual assigned a profile page that contains the information of employees such as the name of an employee, his designation, whom he has to report, working location and contact details, etc.
Chatter works in the same manner as Facebook and Linkedin where users are allowed to share their views on the various issues.  In the chatter, employees are asked to "follow" people and documents to identify the opportunities, service cases, campaigns, projects, and a lot more.
Salesforce One
Salesforce One is an important platform from Salesforce. This would create an environment where a user can develop applications and exchange data with the help of inbuilt programming code and  Application User Interface (API). This tool was first introduced in the 2013 November approach to developing Mobile-first applications.
The main motive behind the introduction of Salesforce one is to develop applications that would fit Web first, desktop second and to create an open-source architecture that would allow seamless integrations with third-party applications. Salesforce One enables users to build applications on a customer success platform, in collaboration with the Lightning development platform.
What is Apex
It is an object-oriented programming language. Apex helps the developers in handling the transaction control and flow statements on Salesforce services with the help of an API. It even helps the developers to include their business logic into the program code.
Below mentioned are the advantages of Apex Language:
Syntaxes used in Apex are very fast and easy to understand and offer quick and & efficient results.
It binds all queries together and DML statements on the salesforce server.
Apex uses direct references to schema objects such as field names and objects.
 Click Here -> Get Prepared For Salesforce Admin Interviews
Traditional CRM vs Salesforce CRM
The key difference between the Salesforce CRM and the traditional CRM are as follows:
| Salesforce | Force |
| --- | --- |
| Salesforce is a customer relationship management (CRM) which is mainly used to build a strong bond between customers and companies. | Force.com is a platform mainly designed to simplify deployments and developments of the websites and cloud-based applications. |
| Salesforce is considered as a SaaS product. | Force is a Platform as a Service (PaaS) product. |
| In salesforce.com you will be having three core products and they are Service cloud, Marketing cloud, and Sales cloud. This availability of the core products will make you easily create various applications. | Whereas, in Force.com you have to build your own applications self and can design various applications depending on the requirements. There are no such core elements in Force.com.  |
| Salesforce.com is entirely mobilized and stores all the details of the customers in a particular place to make it easy for the companies to take effective decisions. | Force.com has all the security controls which will have the ability to manage various applications. |
| Salesforce is mainly used by many organizations because of its CRM functionalities such as Sales cloud, marketing cloud, and service cloud. | Force is mainly referred as an underlying platform that include database, UI, and coding. |
Difference Between Salesforce and Force
| Traditional CRM | Salesforce CRM |
| --- | --- |
| Traditional marketing is the method of direct advertising for generating more number of sales.  | Salesforce CRM is mainly used to build customer relationships and its main target is to engage more with customers.  |
| Traditional CRM implementations and applications are very tough to understand and use. | Salesforce CRM applications and implementations are very easy to use and understand. |
| It takes very long time i.e minimum of 6 to 12 months of time to set up traditional CRM. | Unlike traditional CRM, Within a few days or weeks we can set up a salesforce CRM. |
| High cost and can't be affordable | Cost effective and easily affordable |
| These CRMs can be hosted on the company's own server. | Salesforce CRMs could be hosted on the third-party cloud for easy usage and access. |
What are the Major Difference Between the Components and Services Managed by IaaS, PaaS, and SaaS
The three major service models in cloud computing are Infrastructure as a Service (IaaS), Platform as a Service (PaaS), and Software as a Service (SaaS). They are the core elements in the cloud computing platform. Now let's get into the difference between the services and components managed by these three major cloud service models.
| Factors | IaaS | PaaS | SaaS |
| --- | --- | --- | --- |
| Services offered | Web-based user interfaces, APIs, Log access, load balancing, clustering, monitoring, security, and storage resiliency. | PaaS services can include information security, development team collaboration, web service integration, database integration, testing, and deployment. | Human resource management, enterprise resource planning (ERP), customer relationship management (CRM), financial management, billing, sales management, etc. |
| Components | The components managed by IaaS are mainly storage, networking, computer resources, virtualization, host, and physical management. | Servers, storage services, networking equipment, databases, operating systems and middleware are the components that are included in PaaS. | Server, networking, storage, OS, packaging software, and middleware are the components managed by SaaS. |
| Definition | It is the cloud service model which provides virtualized computing resources over the Internet. | It is the second most service model in cloud computing that mainly delivers tools used for application development over the Internet. | It is a cloud service model which mostly used to host software and make it available for the clients over the Internet. |
| What it provides | Provides access for the resources like virtual storage systems, virtual machines, etc. | For developing various applications PaaS provides runtime environments, deployment and development tools. | Provides software access to the end users over the Internet. |
| Main purpose | Mainly used to allocate and manage resources. | Mainly used to build applications. | Mainly used to provide software solutions for end users. |
| Who uses it | Used by network architects. | Used by many developers. | Used by end users. |
| Flexibility | Very flexible | Flexible but will have some limitations. | Lowest modifications. |
| Cost | Most expensive | Middle-level cost | Cheapest |
| Examples | Amazon Web Services (AWS), EC2, Google Compute Engine, etc. | Windows Azure, Google Map Engine, OpenShift, Apache, Heroku, etc. | Google Apps, MailChimp, ZenDesk, BigCommerce, etc. |
Types of Cloud computing
There are three different cloud services available in the market, which are a public, private and hybrid cloud. Let's get to know each of them in brief.
Public cloud
It is a cloud computing service provided by third-party vendors such as Amazon web services, Salesforce, Microsoft Azure, etc. these cloud providers will take care of everything such as storage, servers, software, hardware. Using the web, you can access and manage your servers.
Private cloud
A private cloud is designed exclusively for the use of a single organization. It is also called a privately-owned cloud, which contains everything needed for cloud computing such as infrastructure and services.
Hybrid cloud
It's a combination of private and public clouds and shares the data and applications between these two. Hybrid cloud allows more deploying options, enables optimization of business infrastructure of the business, highly secured and greater flexibility.
Types of job roles available in Salesforce
Salesforce Administrator role
Salesforce Developer role
Salesforce Architect role
Salesforce Project manager role
Salesforce Consultant role
Salesforce Business analyst role
Let's discuss the roles & responsibilities of each designation:
Salesforce Developer Role :
A salesforce developer is a professional who possesses a skill set to develop cloud-based applications on the Force platform. Salesforce developers are responsible for customizing and managing salesforce applications.  To become a professional salesforce developer one must have the complete awareness of salesforce and it's limitations.
Salesforce Administration Role :
A Salesforce Administrator should possess a skill set to analyze new requirements of salesforce and the ability to manage upstream, as well as downstream processes and applications on salesforce.com.  Salesforce administrator needs to undergo various types of tasks that include maintaining data quality, adding fields, allow users to develop reports, unlocking or restoring passwords, running backups, adding new whitelisted IP addresses,  and many more other tasks.
Salesforce Architect Role:
A salesforce Architect job role needs a diversified skill set to manage a Salesforce platform. To perform the architectural tasks on the salesforce CRM tool one should have awareness on various web services and should be able to code in different languages. And also need knowledge of SFDC and CRM processes including Sales, Marketing and service functions.
Salesforce Consultant :
Salesforce consultant is a person who adds value to the organization and contributes to the development of revenue. To perform this role one has to be good at communicating and managing people.  And also possess excellent knowledge of technical and functional areas of the Salesforce platform. Salesforce consultant is responsible for developing business by bringing new clients and ensures their overall satisfaction.
Salesforce Project Manager :
The demand for the salesforce Salesforce Project manager role has been growing over the years due to the increased adoption of the Salesforce CRM tool. A project manager has to be good at managing projects from an end to end and also responsible for delivering the project on a timely basis. His/her roles include maintaining communication with various departments to coordinate and complete the projects.
Salesforce Business Analyst :
Analyzing a business process is very vital for the overall development of the business. The role of a Business Analyst includes identifying a business requirement and using a salesforce platform to develop solutions. These guys are responsible for the implementation of the salesforce in an organization.
Importance of Certifications in Salesforce
Certification plays an essential role in placing you in a good job. Salesforce certifications are designed by keeping industry standards. Organizations across the world are looking for Certified Salesforce professionals. Salaries also high for professionals who hold the certification.
Types of certifications available in salesforce are:
Developer Certifications
Administrator certifications
Architects Certifications
Implementation Experts or Consultant Certification.
App Builders Certifications
Pardot Experts Certifications
Marketers Certification
CPQ Certification
Salesforce Future Scope
To serve their customers in the best possible way and to sustain in the fast-forwarding business world companies across the world are choosing Customer Relationship Management (CRM) tools to make their businesses process smarter and innovative. There are multiple CRM tools available in the market but Salesforce is a market leader with a majority of shares in the CRM segment.  This most popular CRM tool acts as a power package to cater to the needs of organizations.
Let us consider some of the essential events that would describe the future scope of the salesforce. Google and Salesforce have signed an alliance in 2017, and it was one of the biggest partnership moves in the cloud computing segment. This alliance has made salesforce stronger than before. Now salesforce can use the Google core services to expand its future. According to Gartner the demand for  SaaS (Software as a Service) has made roots for the popularity of the CRM tools. And also Gartner predicted that the Saas Adoption rate would be increased to 80 to 85% percent by the end of 2025. These predictions are clearly explaining the future scope of Salesforce.
In the future, it is expected that the CRM tools are integrated with the Big data and Data Science to make CRM tools smarter than ever before. Salesforce being an active player in the CRM segment it always comes up with the new features to meet the changing requirements of organizations.
Steps to Create a new Login Salesforce Developer Account
Below mentioned are the steps one has to follow to create a salesforce developer account.
Step:1 
To create a salesforce account the first thing you need to do is go to google.com and type "salesforce sign up". To have a clear understanding look at the below image.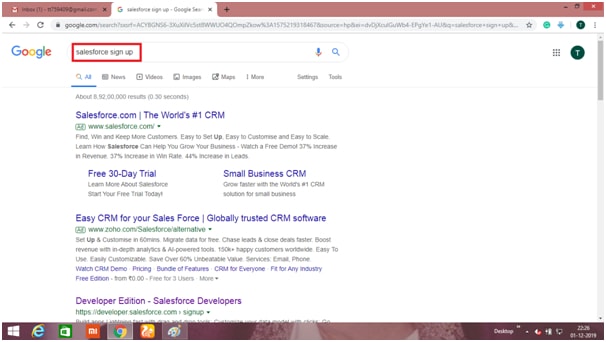 Step: 2
Once you are done with the step:1, google will give you the result as "Developer Edition – Salesforce Developers". Click on it.  Look at the below image to have a clear idea.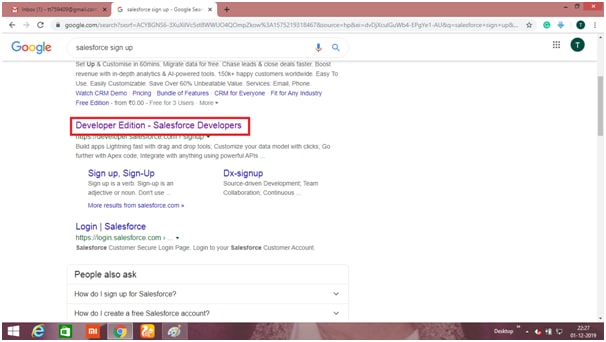 Step:3
After clicking on   "Developer Edition – Salesforce Developers" you will be given a screen like below. This screen will ask you to fill out all the necessary information like your name, role, postal code, etc. Fill out all the information and hit the sign me up button.  Look at the below screenshots to have a clear idea.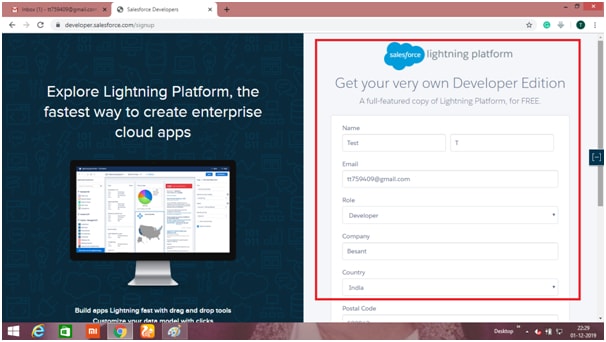 Step: 4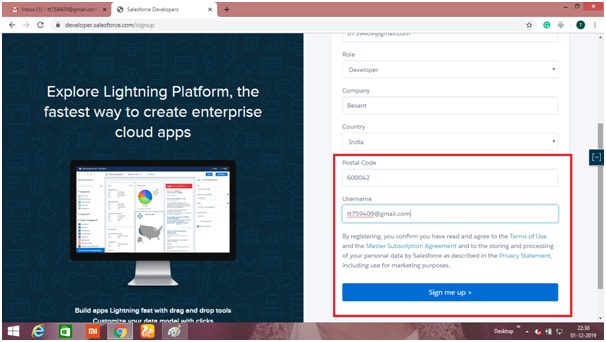 Step: 5
After clicking on signing me up button your screen will display the message to verify your account as mentioned in the below screenshot.  You will receive an mail from the salesforce, check your mailbox.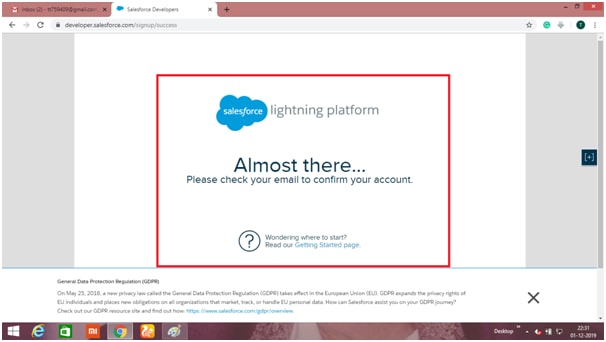 Step: 6
After completion of the above task, you need to check your mail and you will be receiving an mail from the salesforce, click on it. The below screenshot depicts you how an mail looks like.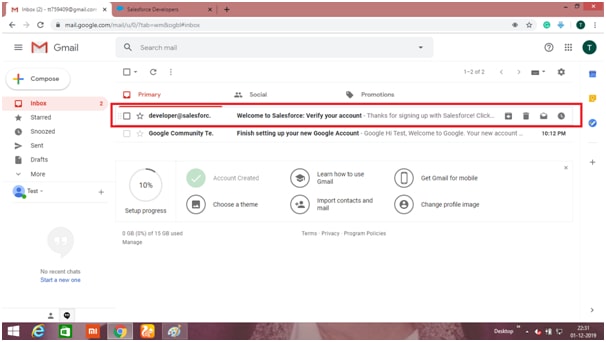 Step: 7 
Once you open the mail it will ask you to verify your account. Click on the verify the account in your mail.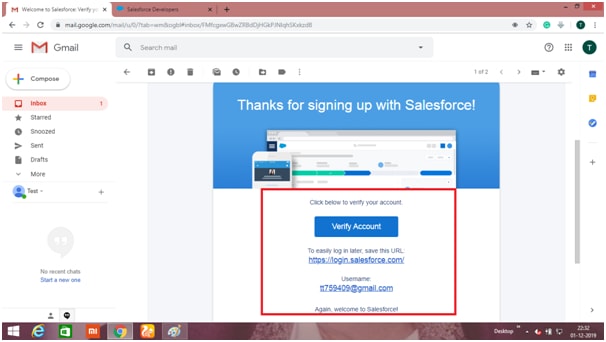 Step: 8 
Once you click on the verified account it will take you the screen like below. You are asked to set a password for your account and also you will be asked one secret question to confirm it's you. After filling all the necessary information, click on the change password button.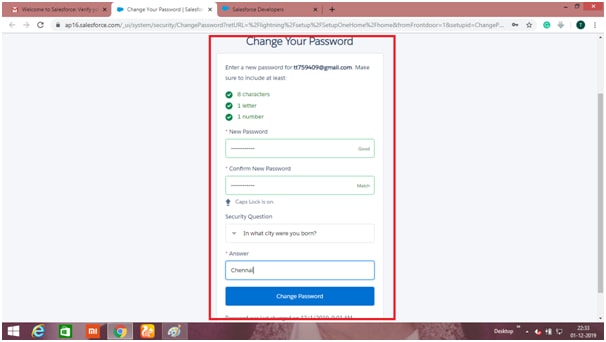 Step:9
Once you complete all the above-mentioned tasks successfully you will be redirected to the homepage of salesforce where you can find multiple options. Now you can perform the tasks that you want.

Conclusion
Salesforce is on the Top in the list of popular CRM's. It contributes a lot in moving your business forward in this competitive world. It simplifies the business process by eliminating the complexities associated with the various tasks. We hope this tutorial has helped you in finding the information you are looking for. If you are aspiring to start your career in salesforce or you want to become a salesforce developer, it is advisable to enroll for courses from best institutes like Besant technologies.