Best Oracle DBA Training in Bangalore
Get the best Oracle DBA training in Bangalore at Besant Technologies in terms of the syllabus with latest trends, practical lab coaching, video, and audio tutorials, in-depth explanation of concepts and complete placement training. Facilities are provided during the training period for professionals to enhance their career growth through our training program. Get enrolled for the most demanding skill in the world. Oracle DBA Training in Bangalore will make your career a new height. We at Besant technologies provide you with an excellent platform to learn and explore the subject from industry experts. We help students to dream high and achieve it.
Oracle DBA Training in Bangalore with Real-time Projects
Besant Technologies is committed to providing excellent Oracle DBA training in Bangalore with real-time projects. We offer live project exposure, hands-on training experience, in-depth coaching by skilled subject-matter experts on basic and advanced course modules. Our training program is affordable and we guarantee 100% assistance for Oracle certifications and placement.
Answer 3 Simple Questions
Get upto 30%* Discount in all courses. Limited Offer. T&c Apply.
Take Part
Syllabus of Oracle DBA Training in Bangalore
Introduction (Database Architecture)
Describe course objectives
Explore the Oracle 12C database architecture
Installing the Oracle Database Software
Explain core DBA tasks and tools
Plan an Oracle installation
Use optimal flexible architecture
Install software with the Oracle Universal Installer (OUI)
Creating an Oracle Database
Create a database with the Database Configuration Assistant (DBCA)
Create a database design template with the DBCA
Generate database creation scripts with the DBCA
Managing the Oracle Instance
Start and stop the Oracle database and components
Use Enterprise Manager (EM)
Access a database with SQL*Plus and iSQL*Plus
Modify database initialization parameters
Understand the stages of database startup
View the Alert log
Use the Data Dictionary
Managing Database Storage Structures
Describe table data storage (in blocks)
Define the purpose of tablespaces and data files
Understand and utilize Oracle Managed Files (OMF)
Create and manage tablespaces
Obtain tablespace information
Describe the main concepts and functionality of Automatic Storage Management (ASM)
Administering User Security
Create and manage database user accounts
Authenticate users
Assign default storage areas (tablespaces)
Grant and revoke privileges
Create and manage roles
Create and manage profiles
Implement standard password security features
Control resource usage by users
Managing Schema Objects
Define schema objects and data types
Create and modify tables
Define constraints
View the columns and contents of a table
Create indexes, views and sequences
Explain the use of temporary tables
Use the Data Dictionary
Manage data through SQL
Monitor and resolve locking conflicts
Managing Undo Data
Explain DML and undo data generation
Monitor and administer undo
Describe the difference between undo and redo data
Configure undo retention
Guarantee undo retention
Use the undo advisor
Implementing Oracle Database Security
Describe DBA responsibilities for security
Apply the principal of least privilege
Enable standard database auditing
Specify audit options
Review audit information
Maintain the audit trail
Oracle DBA Training Syllabus – Part 2
Configuring the Oracle Network Environment
Create additional listeners
Create Net Service aliases
Configure connect-time failover
Control the Oracle Net Listener
Test Oracle Net connectivity
Identify when to use shared versus dedicated servers
Backup and Recovery Concepts
Identify the types of failure that may occur in an Oracle Database
Describe ways to tune instance recovery
Identify the importance of checkpoints, redo log files, and archived log files
Configure ARCHIVELOG mode
Performing Database Backups
Create consistent database backups
Back your database up without shutting it down
Create incremental backups
Automate database backups
Monitor the flash recovery area
Performing Database Recovery
Recover from loss of a control file
Recover from loss of a redo log file
Perform complete recovery following the loss of a data file
Performing Flashback
Describe Flashback database
Restore the table content to a specific point in the past with Flashback Table
Recover from a dropped table
View the contents of the database as of any single point in time with Flashback Query
See versions of a row over time with Flashback Versions Query
View the transaction history of a row with Flashback Transaction Query
Moving Data
Describe available ways for moving data
Create and use directory objects
Use SQL*Loader to load data from a non-Oracle database (or user files)
Explain the general architecture of Data Pump
Use Data Pump Export and Import to move data between Oracle databases
Use external tables to move data via platform-independent files
Configuring Recovery Manager
Recovery Manager Features and Components
Using a Flash Recovery Area with RMAN
Configuring RMAN
Control File Autobackups
Retention Policies and Channel Allocation
Using Recovery Manager to connect to a target database in default NOCATALOG mode
Displaying the current RMAN configuration settings
Altering the backup retention policy for a database
Using Recovery Manager
RMAN Command Overview
Parallelization of Backup Sets
Compressed Backups
Image Copy
Whole Database and Incremental Backups
LIST and REPORT commands
Enable ARCHIVELOG mode for the database
Use Recovery Manager
Recovering from Non-critical Losses
Recovery of Non-Critical Files
Creating New Temporary Tablespace
Recreating Redo Log Files, Index Tablespaces, and Indexes
Read-Only Tablespace Recovery
Authentication Methods for Database Administrators
Loss of Password Authentication File
Creating a new temporary tablespace
Altering the default temporary tablespace for a database
Incomplete Recovery
Recovery Steps
Server and User Managed Recovery commands
Recovering a Control File Autobackup
Creating a New Control File
Incomplete Recovery Overview
Incomplete Recovery Best Practices
Simplified Recovery Through RESETLOGS
Point-in-time recovery using RMAN
Flashback
Flashback Database Architecture
Configuring and Monitoring Flashback Database
Backing Up the Flash Recovery Area
Using V$FLASH_RECOVERY_AREA_USAGE
Flashback Database Considerations
Using the Flashback Database RMAN interface
Using Flashback Database EM Interface
Managing and monitoring Flashback Database operations
Dealing with Database Corruption
Block Corruption Symptoms: ORA-1578
DBVERIFY Utility and the ANALYZE command
Initialization parameter DB_BLOCK_CHECKING
Segment Metadata Dump and Verification
Using Flashback for Logical Corruption and using DBMS_REPAIR
Block Media Recovery
RMAN BMR Interface
Dumping and Verifying Segment Metadata
Monitoring and Managing Storage I
Database Storage Structures
Space Management Overview
Oracle-Managed Files (OMF)
Row Chaining and Migrating
Proactive Tablespace Monitoring
Managing Resumable Space Allocation
SYSAUX Tablespace
Monitoring table and index space usage
Monitoring and Managing Storage II
Automatic Undo Management
Redo Log Files
Table Types
Partitioned Tables
Index-Organized Tables (IOT)
Managing index space with SQL
Configure optimal redo log file size
View "Automatic Tuning of Undo Retention"
VLDB Support
Creating Bigfile Tablespaces
Packages and data dictionary changes to support VLDB
Creating and maintaining temporary tablespace groups (TTG)
Partitioning and Partitioned Indexes
Skipping unusable indexes
DML Error Logging
Interpreting Bigfile ROWIDs
Automating Tasks with the Scheduler
Scheduler Concepts
Creating a Job Class and a Window
Managing Jobs, Programs, Chains, Events, Schedules, priority
Viewing and Purging Job Logs
Creating a program and a schedule
Creating a job that uses a program and a schedule
Altering the program and schedule for the job and observing the behavior change of the job
Monitoring job runs
Workshop
Workshop Methodology, requirements, and setup
Scenario 1: Database performance
Scenario 2: Finding and Tuning Inefficient SQL
Scenario 3: SGA Management – REDO
Scenario 4: Running out of Undo Space
Scenario 5: Missing datafile
Scenario 6: Managing space in a tablespace – REDO
Scenario 7: Missing TEMP data file
Looking for Master your Skills? Enroll Now on Triple Course Offer & Start Learning at 24,999!
Explore Now
Upcoming Batch Schedule for Best Oracle DBA Training in Bangalore
Besant Technologies provides flexible timings to all our students. Here are the Oracle DBA Training in Bangalore Schedule in our branches. If this schedule doesn't match please let us know. We will try to arrange appropriate timings based on your flexible timings.
30-10-2021

Sat (Sat - Sun)Weekend Batch11:00 AM (IST) (Class 3Hrs) / Per SessionGet Fees

Can't find a batch you were looking for?
Corporate Training
If you want to give the Trending technology experience to your esteemed employees, we are here to help you!
Trainer Profile of Oracle DBA Training in Bangalore
Our Trainers provide complete freedom to the students, to explore the subject and learn based on real-time examples. Our trainers help the candidates in completing their projects and even prepare them for interview questions and answers. Candidates are free to ask any questions at any time.
More than 7+ Years of Experience.
Trained more than 2000+ students in a year.
Strong Theoretical & Practical Knowledge.
Certified Professionals with High Grade.
Well connected with Hiring HRs in multinational companies.
Expert level Subject Knowledge and fully up-to-date on real-world industry applications.
Trainers have Experienced on multiple real-time projects in their Industries.
Our Trainers are working in multinational companies such as CTS, TCS, HCL Technologies, ZOHO, Birlasoft, IBM, Microsoft, HP, Scope, Philips Technologies etc
Build your resume to the latest trend, and get a chance to know our Tie-Up Companies
Placed Student's list
Oracle DBA Exams & Certification
Besant Technologies Certification is Accredited by all major Global Companies around the world. We provide after completion of the theoretical and practical sessions to fresher's as well as corporate trainees.
Our certification at Besant Technologies is accredited worldwide. It increases the value of your resume and you can attain leading job posts with the help of this certification in leading MNC's of the world. The certification is only provided after successful completion of our training and practical based projects.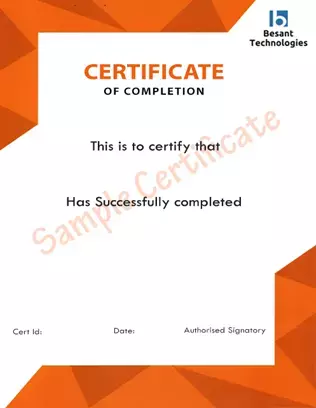 Group Discount
If you have Three or more people in your training we will be delighted to offer you a group discount.
Key Features of Oracle DBA Training in Bangalore
30+ Hours Course Duration
100% Job Oriented Training
Industry Expert Faculties
Free Demo Class Available
Training Courses Reviews
I am Sam. I Studied Oracle DBA Training in Besant Technologies. I Had Very Good Experience There. The Staff Members Are Very Helpful, Friendly and Well-Mannered. Ms.Jaya Shree Was My Trainer. She Is Very Good Industry Experienced, Kind And Helpful. I am Totally Satisfied With The Way Of Teaching. Looking Forward To Joining Some Other Programs There.
Salman
I have completed the Oracle DBA course at Besant Technologies, Bangalore, my trainer name Sundar Mohan. He is a good trainer. He is a very cooperative person and ready to help at any time. The classes provided by him is very useful. This institute is a very good place for learning. Thanks to Besant Technologies.
Subha
Hi, this is Sabitha, It has been a wonderful experience, completed Oracle DBA at Besant Technologies. The trainers were awesome and very helpful. Placement Team is excellent especially Ismail sir, Now I think that Besant Technologies as the right decision for my career.
sabitha
Frequently Asked Questions
Besant Technologies offers 250+ IT training courses in more than 20+ branches all over India with 10+ years of Experienced Expert level Trainers.
Fully hands-on training
30+ hours course duration
Industry expert faculties
Completed 1500+ batches
100% job oriented training
Certification guidance
Own course materials
Resume editing
Interview preparation
Affordable fees structure
Besant Technologies is the Legend in offering placement to the students. Please visit our Placed Students List on our website.
More than 2000+ students placed in last year.
We have a dedicated placement portal which caters to the needs of the students during placements.
Besant Technologies conducts development sessions including mock interviews, presentation skills to prepare students to face a challenging interview situation with ease.
92% percent placement record
1000+ interviews organized
Our trainers are more than 10+ years of experience in course relavent technologies.
Trainers are expert level and fully up-to-date in the subjects they teach because they continue to spend time working on real-world industry applications.
Trainers have experienced on multiple real-time projects in their industries.
Are working professionals working in multinational companies such as CTS, TCS, HCL Technologies, ZOHO, Birlasoft, IBM, Microsoft, HP, Scope, Philips Technologies, etc…
Trained more than 2000+ students in a year.
Strong theoretical & practical knowledge.
Are certified professionals with high grade.
Are well connected with hiring HRs in multinational companies.
No worries. Besant technologies assure that no one misses single lectures topics. We will reschedule the classes as per your convenience within the stipulated course duration with all such possibilities. If required you can even attend that topic with any other batches.
Besant Technologies provides many suitable modes of training to the students like
Classroom training
One to One training
Fast track training
Live Instructor LED Online training
Customized training
You will receive Besant Technologies globally recognized course completion certification.
Yes, Besant Technologies provides group discounts for its training programs. To get more details, visit our website and contact our support team via Call, Email, Live Chat option or drop a Quick Enquiry. Depending on the group size, we offer discounts as per the terms and conditions.
We accept all major kinds of payment options. Cash, Card (Master, Visa, and Maestro, etc), Net Banking and etc.
Please Contact our course advisor+91-8767 260 270. Or you can share your queries through info@besanttechnologies.com