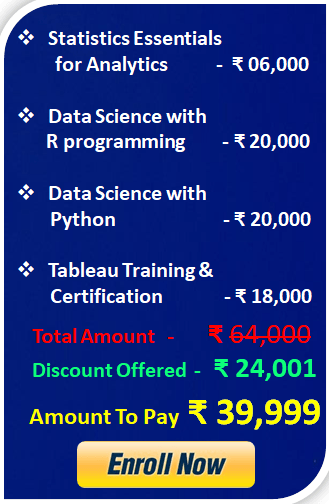 Data Science Master program at Besant Technologies provided by experienced Data Scientists. Our Data Science Course module is completely designed about how to analyze Data Science with R programming and Data Science with Python programming. Data Science course certification will help you be a professional Data Scientist. If you really Interested to Learn Data Science, then Besant Technologies is the Right place.
This course prepares you for the role of Data Scientist by making you an expert in Statistics, Data Science, Big Data, R Programming, Python. There is an increasing demand for skilled data scientists across all industries, making this data science certification course well-suited for participants at all levels of experience.
The term "data scientist" is an industry recognized designation for a professional with deep analytics experience, industry knowledge, and skills. Our Data Science Masters Training will give hands-on experience to you to meet the demands of industry needs.
Statistics Essentials for Analytics
All the topics in the following section will explain the basis of what it is, which scenario you want to use, What math behind it, How to implement with an analytic tool, what inferences you are getting from the final result.
Understanding the Data
Probability and its Uses
Statistical Inference
Data Clustering
Testing the Data
Regression Modelling
Introduction
What is R?
Why R?
Installing R
R environment
How to get help in R
R console and Editor
Packages in R
CRAN
How to check package by date
Variables
Data Types
Data structure
Factors
Converting variable types
Missing values
Importing and Exporting in R
Loading data from file(Text,CSV,Excel)
Loading data from the clipboard
Connecting MySQL in R
How to remove lines while importing
Saving R data format
Exporting in R(Excel,Text,PDF,JSON)
Data Cleaning Process
Concentrating strings
Find and replace
How to split the string
Position based splitting
Semi matching condition
Condition-based row/column selection
Renaming column names
Data Manipulation
Data sorting
Find and remove duplicates record
Recoding data
Merging data
Data aggregation
User-defined functions
Local and global variables
Date and Time format in R
Loops
For
If else
While
Break
Next
Return
 Visualization in R
Bar, stacked bar chart
Pie chart
Line chart
Scatter plot
Histogram
Column chart
Doughnut chart
Trending visualization charts in R
Introduction
Why do we need Python?
Program structure
Execution steps
Interactive Shell
Executable or script files
User Interface or IDE
Memory management and Garbage collections
Object creation and deletion
Object properties
Data Types and Operations
Numbers
Strings
List
Tuple
Dictionary
Other Core Types
Statements and Syntax
Assignments, Expressions and prints
If tests and Syntax Rules
While and For Loops
File Operations
Opening a file
Using Files – txt ,Csv, Xlsx
How to connect MySQL
Find and replace
Appending to file
Exporting file
Functions
Function definition and call
Function Scope
Arguments
Function Objects
Anonymous Functions
Packaging Importing
Oops
Function definition and call
Function Scope
Arguments
Function Objects
Anonymous Functions
Packaging Importing
Pandas Section
Defining Panda
Pandas – Creating and Manipulating Data
How to Create Data Frames?
Working with dates
How to slice and condition based selection
Importance of Grouping and Sorting
Comparison with MySQL
Introduction and Overview
Why Tableau? Why Visualization?
Level Setting – Terminology
Getting Started – creating some powerful visualizations quickly
The Tableau Product Line
Things you should know about Tableau
Getting Started
Connecting to Data and introduction to data source concept
Working with data files versus database server
Understanding the Tableau workspace
Dimensions and Measures
Using Show Me!
Tour of Shelves (How shelves and marks work)
Building Basic Views
Help Menu and Samples
Saving and sharing your work
Analysis
Creating Views
Marks
Size and Transparency
Highlighting
Working with Dates
Date aggregations and date parts
Discrete versus Continuous
Dual Axis / Multiple Measures
Combo Charts with different mark types
Geographic Map Page Trails
Heat Map
Density Chart
Scatter Plots
Pie Charts and Bar Charts
Small Multiples
Working with aggregate versus disaggregate data
Analyzing
Sorting & Grouping
Aliases
Filtering and Quick Filters
Cross-Tabs (Pivot Tables)
Totals and Subtotals Drilling and Drill Through
Aggregation and Disaggregation
Percent of Total
Working with Statistics and Trend lines
Getting Started with Calculated Fields
Working with String Functions
Basic Arithmetic Calculations
Date Math
Working with Totals
Custom Aggregations
Logic Statements
Formatting
Options in Formatting your Visualization
Working with Labels and Annotations
Effective Use of Titles and Captions
Introduction to Visual Best Practices
Building Interactive Dashboard
Combining multiple visualizations into a dashboard
Making your worksheet interactive by using actions and filters
An Introduction to Best Practices in Visualization
Sharing Workbooks
Publish to Reader
Packaged Workbooks
Publish to Office
Publish to PDF
Publish to Tableau Server and Sharing over the Web
Putting it all together
Scenario-based Review Exercises
Best Practices
Data Science Jobs Out Look
Data Science Careers Outlook. A shortage of data scientists means the employment outlook for professionals with the required knowledge and technical skills is extremely positive. It predicts that between now and 2020, demand for data scientists and data engineers will grow by 39 percent.
Frequently Asked Questions
Cleaning data from multiple sources to transform it into a format that data analysts or data scientists can work with is a cumbersome process because – as the number of data sources increases, the time take to clean the data increases exponentially due to the number of sources and the volume of data generated in these sources. It might take up to 80% of the time for just cleaning data making it a critical part of analysis task.
Logistic Regression often referred as logit model is a technique to predict the binary outcome from a linear combination of predictor variables. For example, if you want to predict whether a particular political leader will win the election or not. In this case, the outcome of prediction is binary i.e. 0 or 1 (Win/Lose). The predictor variables here would be the amount of money spent for election campaigning of a particular candidate, the amount of time spent in campaigning, etc.
A subclass of information filtering systems that are meant to predict the preferences or ratings that a user would give to a product. Recommender systems are widely used in movies, news, research articles, products, social tags, music, etc.
Linear regression is a statistical technique where the score of a variable Y is predicted from the score of a second variable X. X is referred to as the predictor variable and Y as the criterion variable.
Estimating a value from 2 known values from a list of values is Interpolation. Extrapolation is approximating a value by extending a known set of values or facts.