Dot Net Training in Chennai
By giving the perfect placements and knowledge, we are the best Dot Net Training Institute in Chennai. Dot Net Training provided by industry top most experienced persons. Our .NET trainers are having more than 9+ years of experience and they share what they learnt in past years.
Upcoming Batches
Starts
Duration
Days
Time (IST)
05th Aug
6 Weeks
Sat & Sun
10:00AM – 01:00PM
07th Aug
4 Weeks
Mon – Fri
06:30PM – 08:00PM
12th Aug
6 Weeks
Sat & Sun
04:00PM – 07:00PM
14th Aug
4 Weeks
Mon – Fri
05:00PM – 06:30PM
19th Aug
6 Weeks
Sat & Sun
05:00PM – 08:00PM
21st Aug
4 Weeks
Mon – Fri
06:00PM – 07:30PM
26th Aug
6 Weeks
Sat & Sun
12:30PM – 03:30PM
28th Aug
4 Weeks
Mon – Fri
06:00PM – 07:30PM
02nd Sept
6 Weeks
Sat & Sun
12:30PM – 03:30PM
Schedule does not suit you, contact us now! | Want to take one-on-one training, contact us now!
We are the best .NET training institute by maintaining placement record comparing any other institutes in Chennai..NET(.NET Framework) a perfect programming language which was developed by Microsoft Corporation by February 2002. .NET framework has various set of libraries. These libraries will support various languages such as VB.NET, C#.NET, ASP.NET etc. These libraries are the pillars for the .NET® framework. Architects of .NET framework have faced so many problems while coding in the C, C++ environment. They give the correct solutions for these problems by giving numerous and extensive features in .NET framework.
Rich support of Graphical user interface is one of the big features. Using IDE we can drag and drop many controls without need to code it. The code will generate automatically while drag and drop.
C#.NET Training Course SyllabusADO.NET Training Course SyllabusASP.NET Training Course Syllabus
Ton and tons of features they are adding in the every framework release. Silver-light, Azure are latest features having tons of features. These tons of features will give solutions to their problems. Our .NET Training in Chennai provides the best of best placements with excellent knowledge with real-time projects. Our .NET® Training always tends with practical which will help you in companies.
Intellisense is another big feature. This feature will auto complete the words when you type in IDE. Intellisense will suggest you the various words when you type a letter or more. This feature will really make programmer to forget about their syntax while coding.
Thus .NET® is having various features to make their programmers to concentrate on their applications. Come to the world of .NET here every DOT will give many solutions to your problem.
.NET Training Reviews
Besant Technologies Reviews given by our students already completed the training with us. Please give your feedback as well if you are a student.
DotNet Training in Chennai – Review by Varalakshmi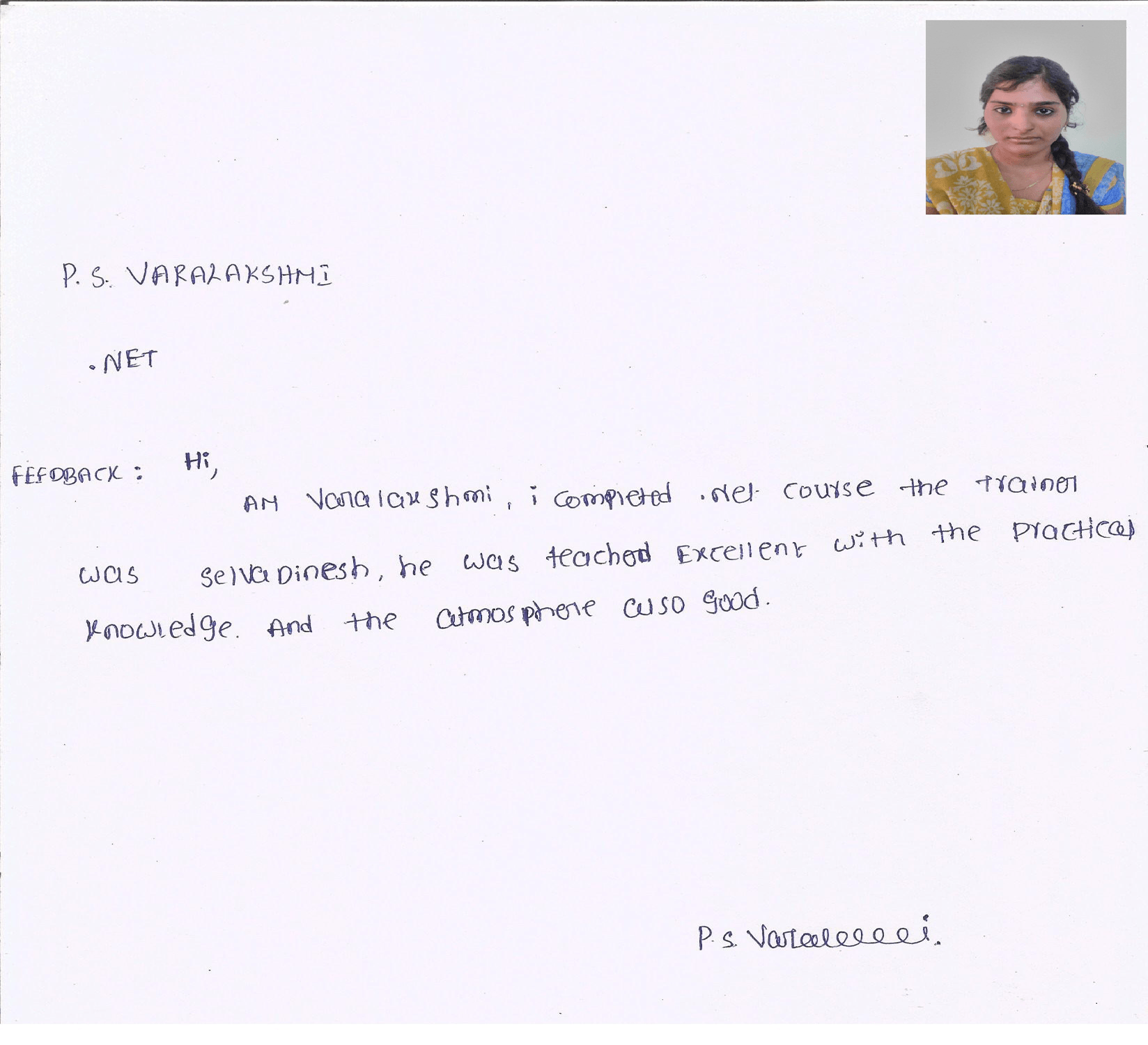 Hi, I am Varalakshmi.I completed .Net course the training was Selvadinesh,he was teached Excellent with the practical knowledge and the atmosphere also good.