Java Training in Chennai
Besant Technologies holds out top quality Java Training in Chennai with an exceptionally skillful combination of talented instructors, distinguished and easy–read training materials, and a remarkable learning environment that clearly shelve our Java training phase in the top Training's rack. Our Java Training allows theoretical concepts to be reinforced with extensive hands-on sessions. Our Java Training allows you to offer both standard and custom courses that will manipulate you from being a novice to an App-Maker (Real time Application Development).
Instructors at Besant Technologies are among the best of the best. Typical Besant Technologies instructors average more than 7-8 years of professional and practical experience in the technology, they tutor. They do not help you out in the formal academic way of teaching without practical experience.
They will very well construct the academic part with all those required and lean you forward into the IT world with the necessary composure you need by means of their practical sessions. More importantly, they are excellent communicators and bring an matchless enthusiasm for learning.
Training at Besant Technologies is of "High Class" which by its nature involves 2-3 students a session thereby creating a very large platform for a clear understanding of the undergoing package.
Core Java Training Course SyllabusJ2EE Training Course SyllabusStruts Training Course SyllabusHibernate Training Course SyllabusSpring Training Course SyllabusAJAX Training Course Syllabus
So, what next? Come, join us and experience this fun-filled comprehensive training at one of the Google's favorites "Besant Technologies, Velachery, Chennai".
JAVA Training Reviews
Besant Technologies Reviews given by our students already completed the training with us. Please give your feedback as well if you are a student.
Java Training in Chennai – Review by Priyanka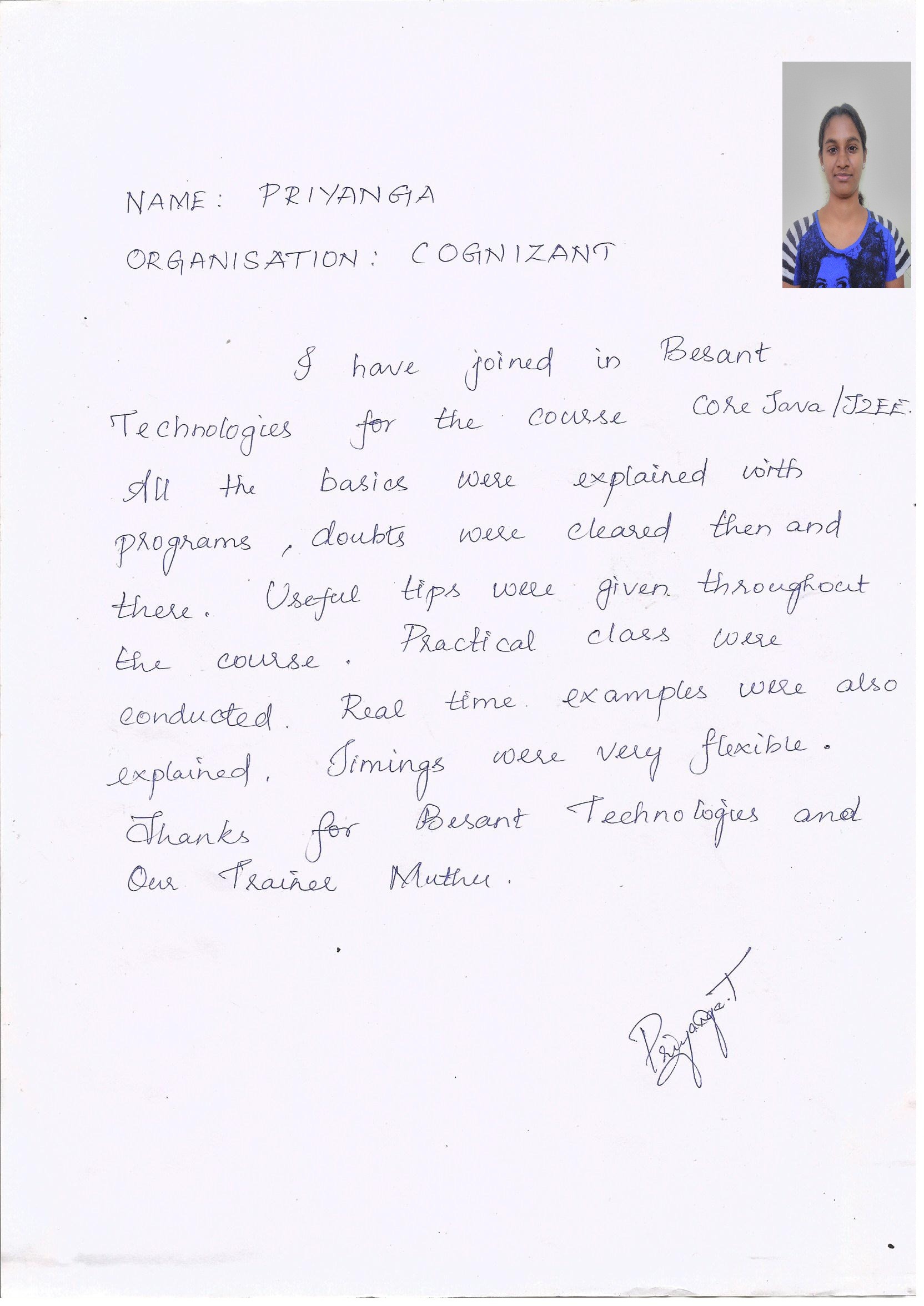 I have joined in Besant Technologies for the course Core Java/J2EE.All the basics were explained with programs, doubts were cleared then and there.Useful tips were given throughout the course. Practical class were conducted. Real time examples were also explained. Timings were very flexible. Thanks for Besant Technologies and our Trainer Muthu.